Compared to the skin of other ethnicities, the Asian skin has its own unique characteristics. However, the downside is that these very genetic inheritances coupled with several other key factors have made acne and pimples a common affliction for Asians.
Read on to discover some of the genetic and environmental causes of acne, and what we can do to give our skin the best possible protection against blemishes.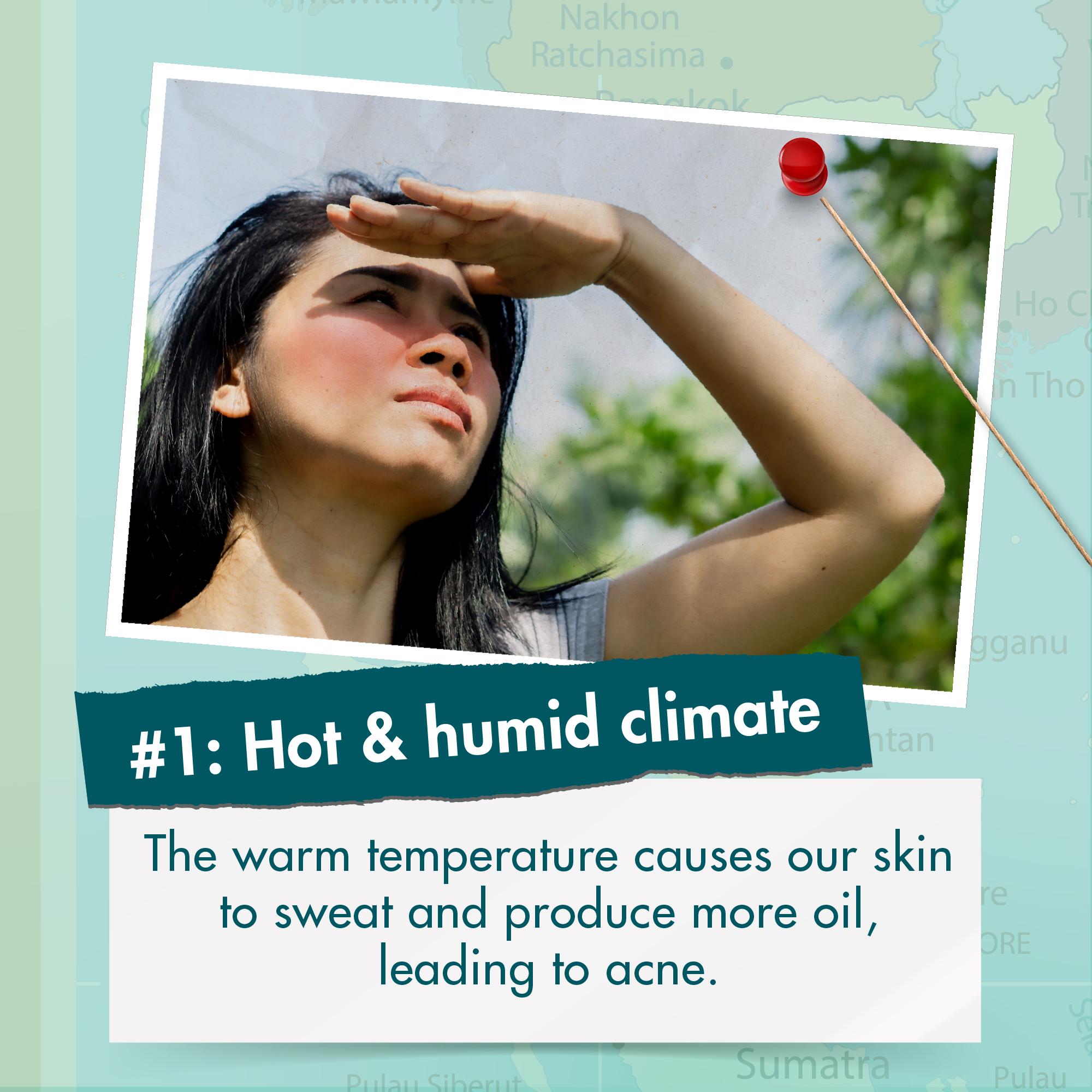 Hot & humid climate
The science is simple – warm temperatures cause our skin to sweat and produce more oil, which in turn leads to the formation of acne. The all-year round humidity in the air can also trigger sebum production and cause our oil glands to overreact. On top of that, a person with pre-existing oily skin condition also faces an increased risk of breakouts due to the higher amount of active oil glands present.
Medic Deno recommends: It may be uncomfortable to have oily skin but try not to give in to the temptation of oil-blotting sheets! They may dry out the skin further by absorbing all of the facial oils (including the ones we need to protect our skin barrier), causing the skin to overcompensate by producing even more oil. Rather, tackle the problem from within by ensuring your pores stay clean with gentle cleansing twice a day.
Increased melanin production
Compared to Caucasions, Asians tend to produce more melanin (the pigment in skin) which helps to absorb harmful UV rays from the sun. However, these skin cells producing melanin also have a higher sensitivity to inflammation and injury, which includes pimples and blemishes.
That means when our skin becomes inflamed with acne pustules and papules, we are more prone to an increased risk of hyperpigmentation and scarring at the sites of inflammation.
Medic Deno recommends: Never, ever attempt to pop your own zit! More often than not, you might aggravate your pimple with incorrect extraction methods, which may leave visible marks in the future. Also, don't forget to wear sunscreen with SPF30 or higher whenever you're out and about as harmful rays can worsen zit spots.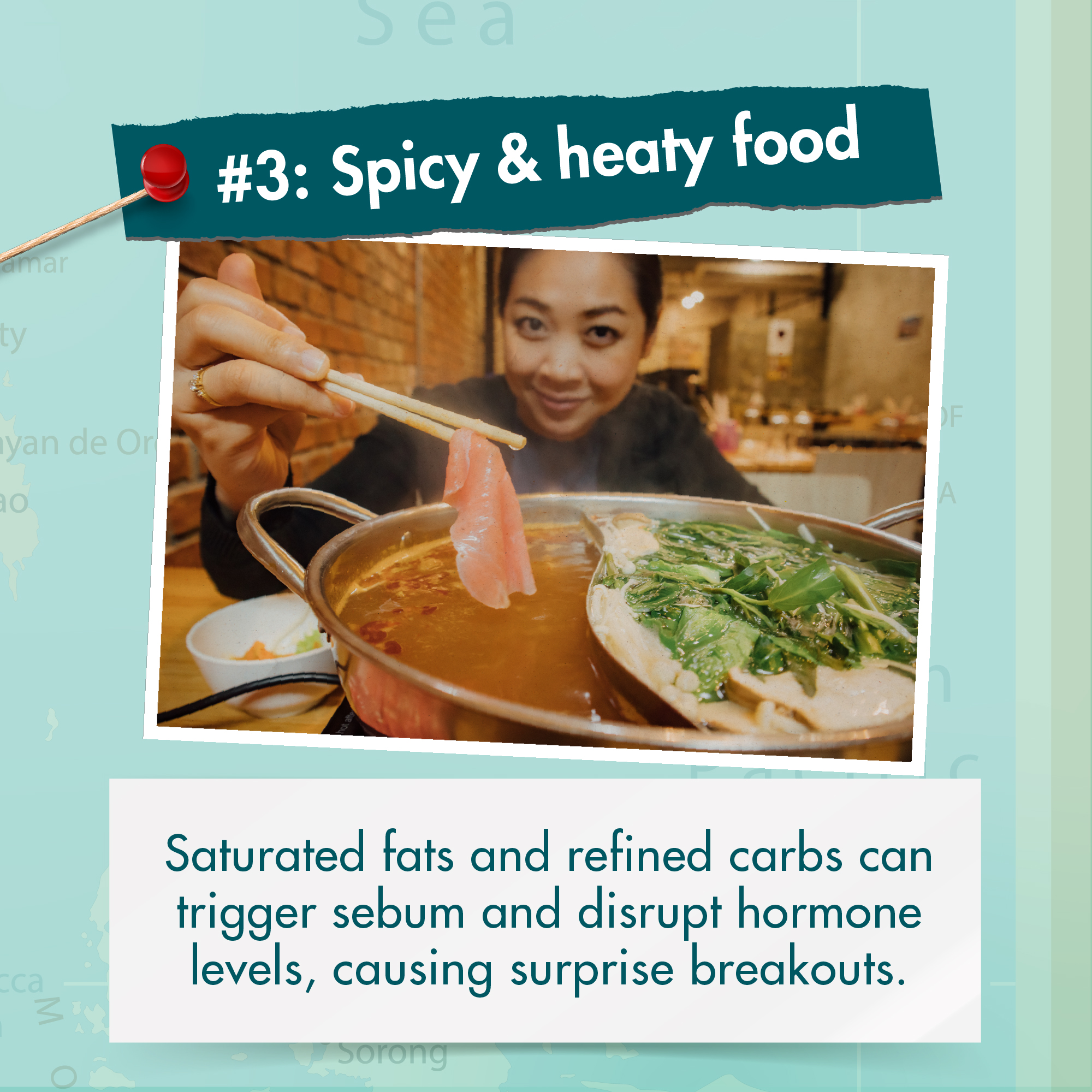 Spicy, heaty and fatty food
You are what you eat, so don't be surprised to find out that what's bad for your body, is bad for your skin too! High glycemic food that is stuffed with saturated fats and refined carbohydrates such as fried, processed or sugary food can trigger excess sebum production, clog facial pores and disrupt hormone levels, leading to surprise breakouts.
Medic Deno recommends: It's completely normal to have cravings, so you may indulge occasionally but be sure to always balance it out with an increased intake of nutritious ingredients, such as veggies and fruits. It also helps to treat breakouts as soon as they appear to prevent further inflammation.
With so many underlying factors that can potentially cause acne, fret not as there is still hope in achieving acne-free skin! At Medic Deno, our bestselling Acne Chemical Peel is a safe, effective and gentle treatment specifically designed to target and treat existing acne concerns, such as blackheads, pigmentation, excess sebum and acne scars.
Proven safe, effective & gentle on sensitive acne skin

Treats existing acne and prevents breakouts

Removes dead skin, whiteheads & blackheads

Controls and balances sebum production

Smoothens the skin surface & lightens acne scars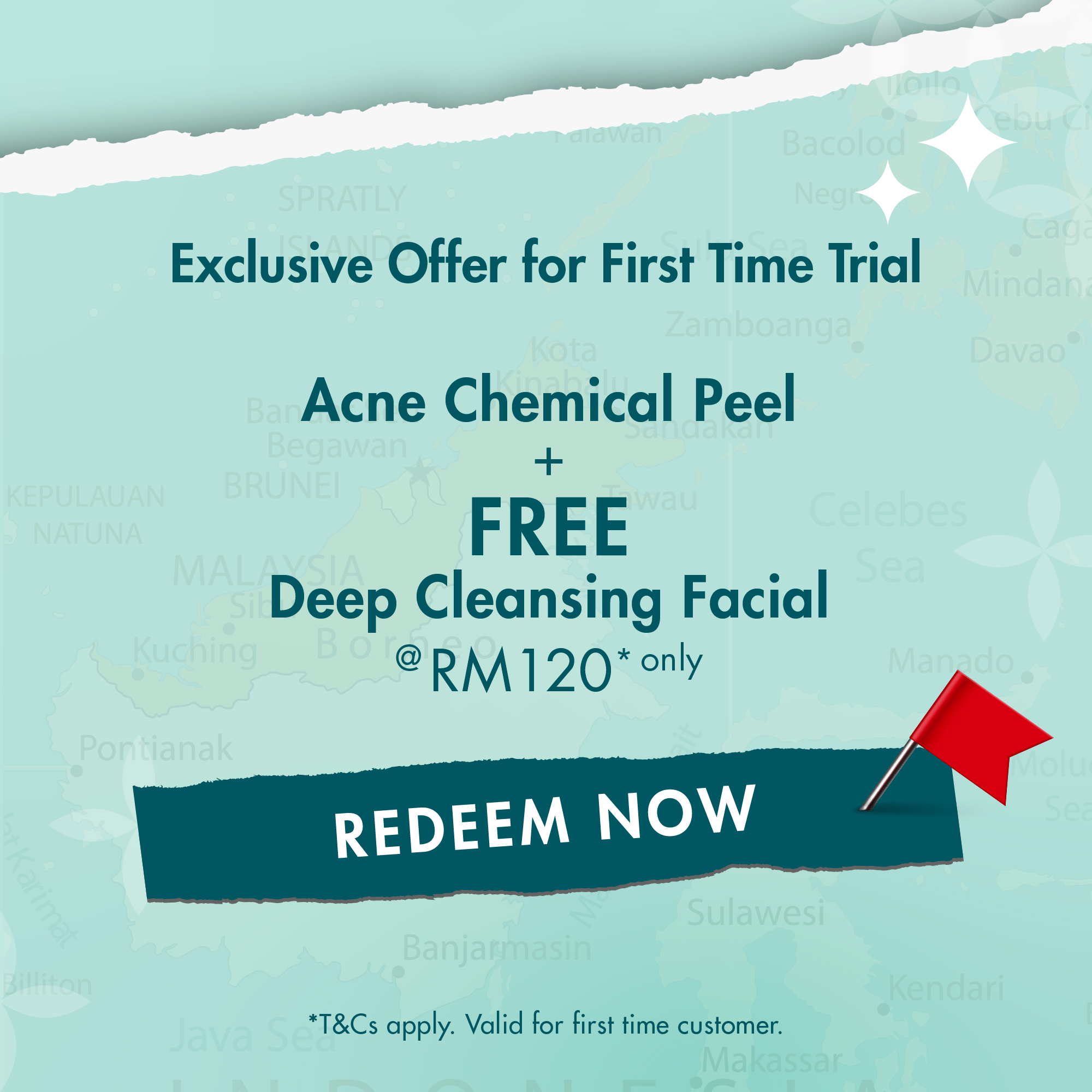 [FIRST TRIAL PROMOTION] Acne Chemical Peel Treatment + FREE Deep Cleaning Facial
For a limited time only, you can claim your first trial offer for Acne Chemical Peel treatment with a complimentary Deep Cleaning Facial at only RM120*! Unveil clearer, brighter and smoother skin in just one treatment session in the hands of our skilled skin specialists – try it to believe it today.
Slots running out fast! Claim this promo now to reserve your slot.

Call us today: +603-9130 3500
Our outlets:
Cheras Leisure Mall
Kuchai Business Park
Lintang Pekan Baru, Klang
IOI Mall Puchong
Sunway Giza
IOI City Mall
Balakong
Damansara Uptown
Kepong
*Valid for first-time customers only.