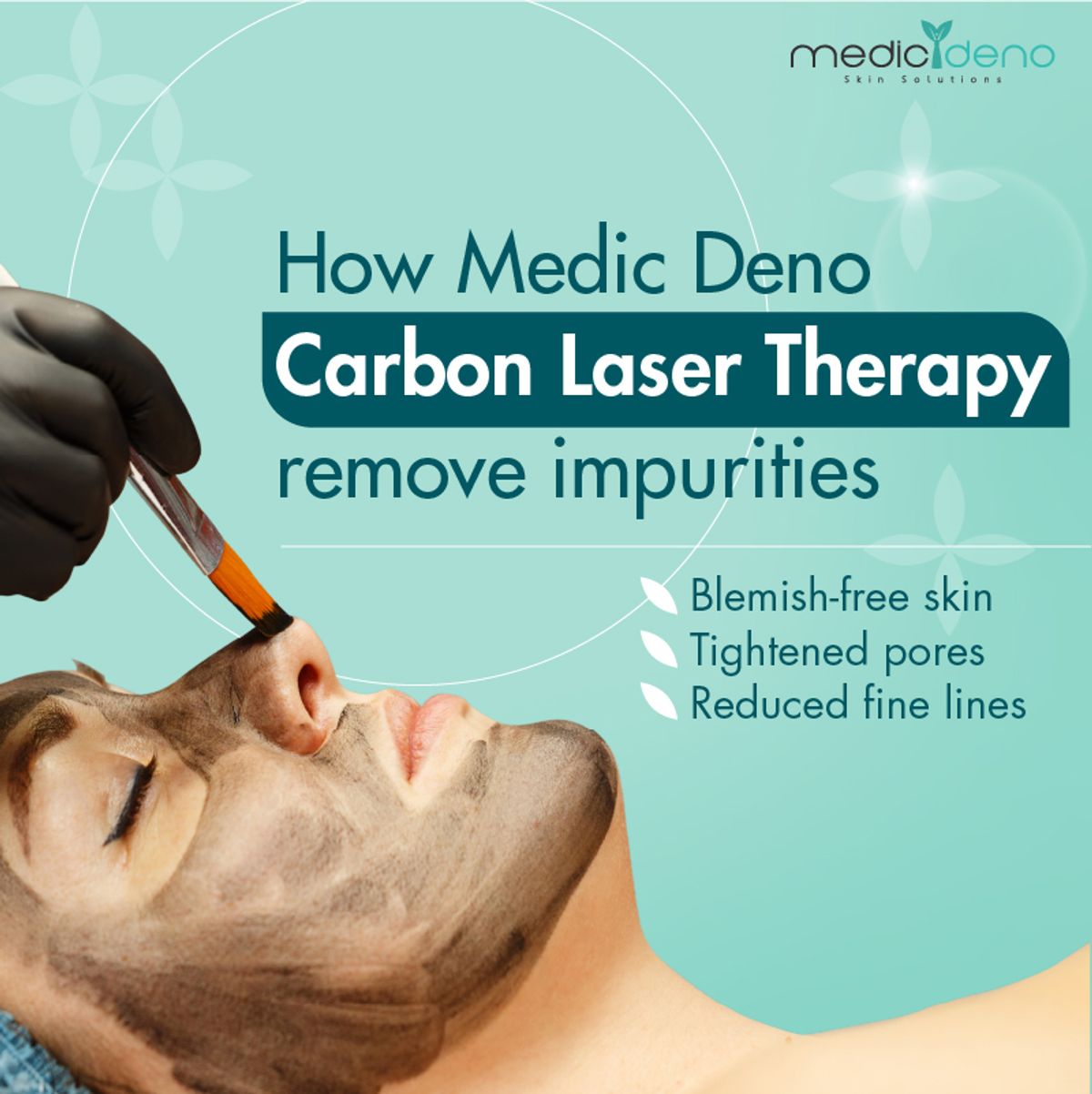 Many beauty gurus and aficionados swear by laser treatments as an essential step of their skin maintenance ritual – but for beginners and the uninitiated, the thought of lasers may seem a tad intimidating at first. This article aims to provide a comprehensive guide to all you need to know about one of our bestselling beauty treatments, and how carbon laser therapy can treat your skin concern with amazing results. Read on to find out more!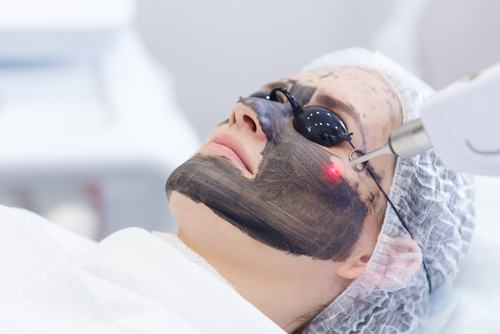 What is carbon laser therapy?
This treatment goes by many names – it is also popularly known as carbon laser peel, laser resurfacing treatment, or as we like to call it in Medic Deno, Korean Glass Skin Nami Clay Carbon Laser Therapy.
As the name suggests, this treatment uses a specialised carbon solution applied on the skin to create a peeling effect for instant glowing complexion and skin rejuvenation. As it uses heat instead of chemicals, this treatment is suitable even for sensitive skin as the exfoliation benefits are gentle and not abrasive. The whole procedure takes about 30 minutes, with no downtime – so you can go about your daily activities right after.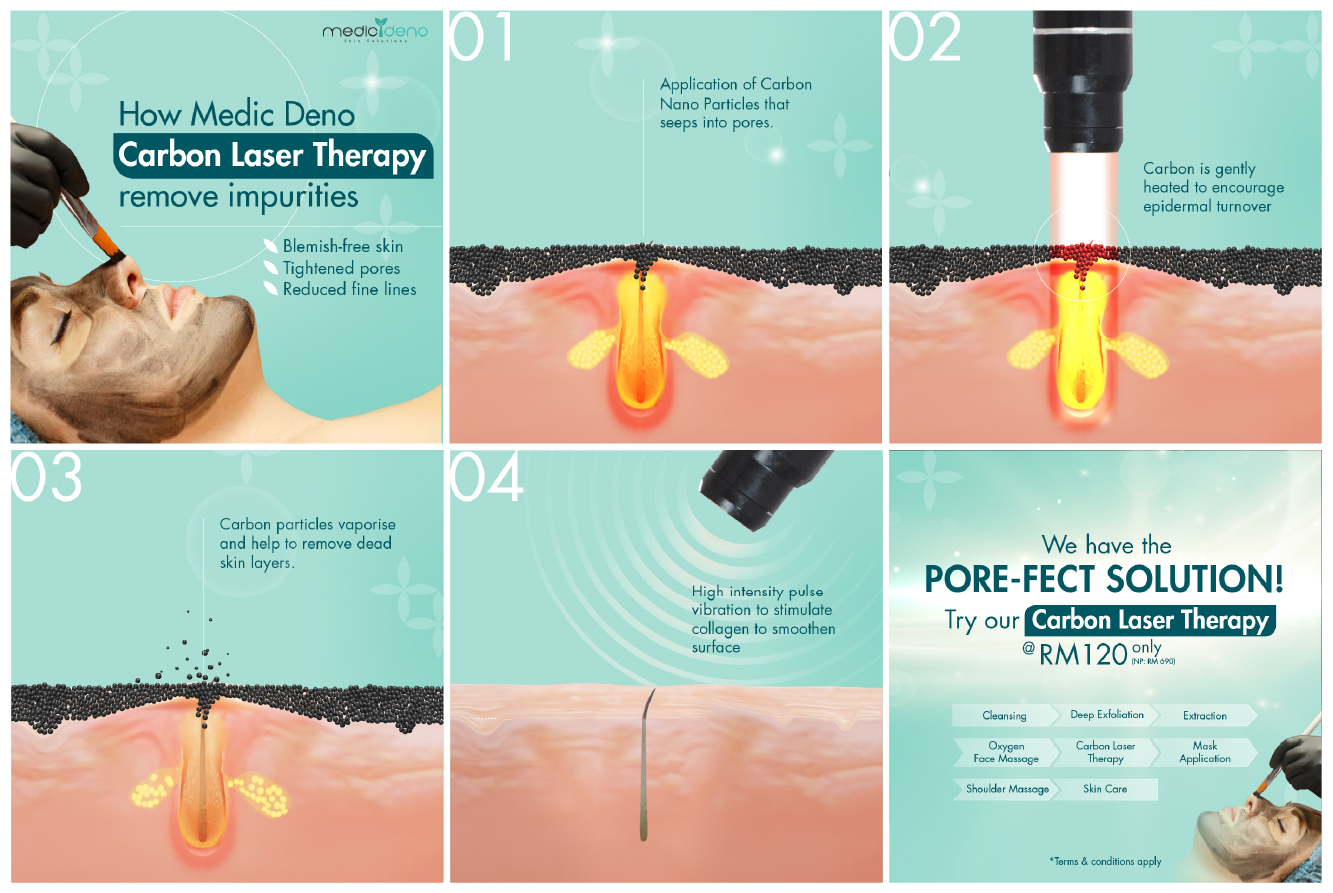 What can I expect from carbon laser therapy?
The treatment begins with the application of lotion containing carbon nanoparticles on the face – don't worry, it's skin friendly! Carbon has the ability to bind with oil, dirt and dead skin cells, pulling it out from deep within the pores. After 10 minutes, the lotion will dry up, followed by placing eye shields to protect your eyes from the laser beam.
Then, our skin doctor will pass a Nd:YAG warming laser over the skin in a low-energy setting, gently heating up the carbon nanoparticles to further bind it to the epidermis, causing it to absorb more skin debris and impurities in the process.
After the warming procedure, our skin doctor will proceed with a pulsed laser to break down carbon. As the laser targets the carbon lotion on the skin, the heat vaporises the carbon nanoparticles, removing dead skin cells, blackheads and whiteheads that are bonded along with it. The heat from the laser also stimulates collagen production within the cells to plump up fine lines and smoothen skin surface. This gentle peeling process will continue as the skin doctor targets the laser around the face, until there are no traces of the carbon lotion left on the skin.

What does carbon laser therapy treat?
One of the most common questions we get from our clients – is carbon laser suitable for me? Typically, this treatment is very effective for those with oily complexion, large clogged pores and acne.
However, we also highly recommend this for most of our clients who wish to see quick improvements for their skin concerns such as signs of premature aging, dullness, fine lines and wrinkles, dark spots and mild acne scars. Carbon laser therapy can provide an instant exfoliation effect that unveils smooth, glowing skin in as little as one session!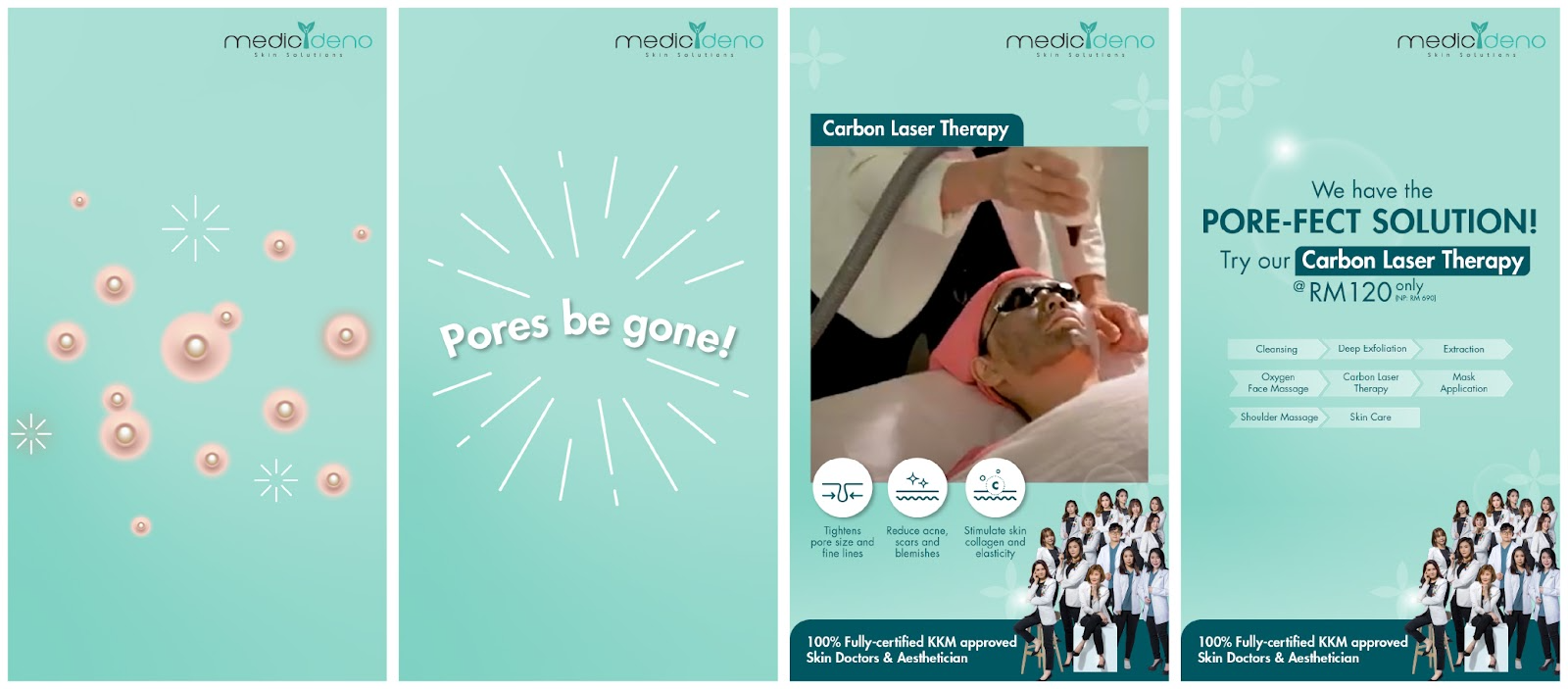 [TRIAL PROMO] Only RM120 for Korean Glass Skin Nami Clay Carbon Laser Therapy
For a limited time only, you can claim your First Trial offer for Korean Glass Skin Nami Clay Carbon Laser Therapy at only RM120 (̶U̶.̶P̶.̶ ̶R̶M̶690̶)̶!
With this package, enjoy a complete pampering session at the hands of our skin specialist at Medic Deno! It comprises of 8 curated beauty steps to treat your skin concerns and rejuvenate your skin from the inside out:
Deep facial & pore cleansing
Soothing scrub & exfoliation
Gentle extraction of blackheads & whiteheads
Oxygen face massage
Korean Glass Skin Nami Clay Carbon Laser Therapy
Conducted by our certified skin doctor, lie back and relax as your skin concerns are zapped away with our state-of-the-art laser treatment machine, offering a plethora of wonderful benefits. The best part is, the procedure itself is painless with no downtime!
Reduces and shrinks the appearance of pores

Removes whiteheads and blackheads

Clears dead skin cells (similar to exfoliation)

Controls sebum production

Improves skin tone & texture

Brighter, glowing and rejuvenated complexion
Mask application
Relaxing neck & shoulder massage
Skincare application
Slots running out fast! Claim this promo now to reserve your slot.

Call us today: +603-9130 3500
Our outlets:
Cheras Leisure Mall
Kuchai Business Park
Lintang Pekan Baru, Klang
IOI Mall Puchong
Sunway Giza
IOI City Mall
Balakong
Damansara Uptown
Kepong
*Valid for first-time customers only.