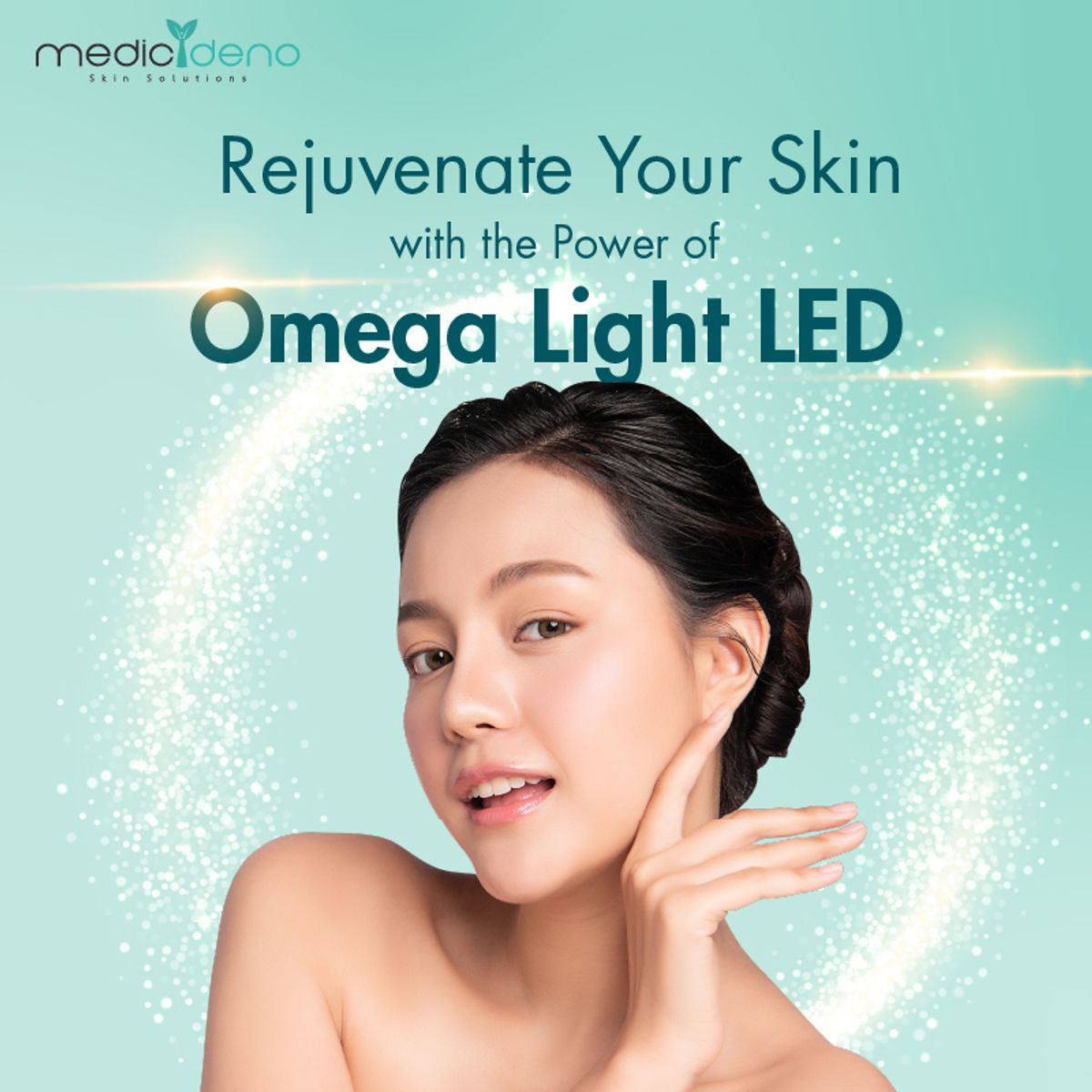 Why Omega Light LED Therapy Could be the Answer to Your Acne
Having acne rarely means "just having acne", as acne skin usually comes with multiple other skin concerns like enlarged pores, blackheads and whiteheads, excess oil, acne scars and inflammation. This could also be one of the reasons why it can be so difficult sometimes to get rid of acne.
Introducing the breakthrough Omega Light LED Therapy, one of Medic Deno's bestselling treatments for acne! Uniquely versatile and effective, this treatment offers excellent benefits for a wide range of skin concerns, from blemishes, acne scars, dullness and pigmentation spots, giving you smooth and clear skin in no time.
Curious to find out more? Read on to discover why the Omega Light LED Therapy might just be the answer to your stubborn acne!
How does this treatment work?
Firstly, what makes the Omega Light LED Therapy so incredibly versatile lies in its ability to treat any skin concern. It harnesses the power of medical-grade LED lights to offer four different coloured lights with unique wavelengths; where each wavelength has a specific healing property to target a particular set of skin concerns.
Red (640 mm): Promotes cell regeneration, blood circulation, and absorption of active ingredients. On top of that, it can also improve the appearance of acne scars.
Blue (423 mm): Kills acne-causing bacteria, controls and balances sebum production while minimising acne breakouts.
Green (532 mm): Soothes inflammation and sensitive skin while strengthening skin barrier.
Yellow (583 mm): Eliminates redness, treats rosacea and hyperpigmentation.
Prior to the treatment, our in-house skin doctor will first analyse your skin to determine the underlying skin concerns and issues. You are then recommended with a specific course of coloured LED treatment based on your unique skin condition.
Then, a pair of goggles will be placed to protect your eyes from the light. Using our clinic's latest state-of-the-art LED machine, the treatment will commence under the careful supervision of our skin doctor who can adjust and customise the session to target specific skin concerns. So, just sit back, relax and let science do its magic!
What can I expect after the treatment?
The session itself is relatively brief and takes only 15-20 minutes of your time, making it an ideal treatment for those with busy schedules. Once the treatment completes, the aesthetician will finish by applying sunscreen to protect the skin.
In just a single session, you may notice improvements in terms of skin appearance, reduced inflammation and an overall smoother texture. For those with acne problems, the treatment can help to reduce inflammation and redness, while treating existing acne and preventing future breakouts by balancing sebum production within the oil glands.
The variety of targeted treatment options also offers a versatile range of solutions for other skin concerns such as ageing, pigmentation, scars as well as overall rejuvenation for a brighter and younger-looking appearance.
Is there any downtime after the treatment?
Not at all! Apart from some slight warmth you may feel during the treatment, there is absolutely no downtime required for the skin to heal. You may proceed with your regular activities right after the session. Just maintain your routine of applying sunscreen whenever you're stepping out of the house and that is sufficient.
How many treatments do I need?
Depending on your skin concerns, you should be able to see visible and consistent results in as short as 2-3 weeks time!
[FIRST TRIAL PROMOTION] Omega Light LED Therapy Treatment + FREE Deep Cleansing Facial
Interested to experience our bestselling Omega Light LED Therapy to clear stubborn acne? For a limited time only, you can claim your first trial offer with a complimentary Deep Cleansing Facial at only RM120*!
Slots running out fast! Claim this promo now to reserve your slot.

Call us today: +603-9130 3500
Our outlets:
Cheras Leisure Mall
Kuchai Business Park
Lintang Pekan Baru, Klang
IOI Mall Puchong
Sunway Giza
IOI City Mall
Balakong
Damansara Uptown
Kepong
*Valid for first-time customers only.